_Annahmebunker AB3S_ - | - _Mülltrennanlage NTA 8_ - | - _Produkttrockner TKBDs_
_Produktkühler TKBD_ - | - _Förderschnecken_ - | - _Trommelsieb TS_ - | - _Windreiniger KO_
---
further ⇒ Hopper & screw conveyors | ⇒ chips trough screw
---
Augers / screw conveyor
Screw conveyors are used for conveying powdery, granular, small-sized, but also semi-moist and fibrous bulk materials. In medium storage free design, to bridge relatively short distances up to max. 10 meters, they meet their needs as a feeder, haul-off or intermediate conveyor. They are especially good for running conveyed such as flour, cement, soot, granules, dye powder, boiler ash, etc., but also find their proven commitment to deal with heavy and abrasive bulk materials such as coal, sand, gravel, ilmenite ore, lead , zinc and nickel ore, sinter, clay, ash and slag.
_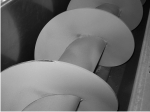 _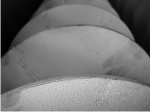 _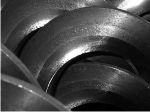 Require higher delivery lengths up to 60 meters, in addition to existing drive and Endverlagerung, several means storage stations at a distance 3-4 m.
Since the Gutauf- and Gutabgabe is possible at various points, to screw conveyor suitable as metering member for alternate loading of containers, bunkers and silos. The flow of material required is regulated by manually or mechanically operated valves at the various outlet openings. The type and design of the screw conveyor are matched to the plant-specific conditions and the respective physical properties of the different materials to be conveyed.
according to the needs a variety of designs and sizes is available. Required for the integrated product, application and temperature ranges materials are already taking them into account in the design.
Application examples:
| | | | |
| --- | --- | --- | --- |
| | | | |
| ash | Ores and rocks | gravel | powder |
| | | | |
| sand | hard coal | aluminum oxide | cement |

Advantages:
Simple, compact and robust construction
Compact footprint (by small cross-sections for tight spaces particularly suitable)
Low investment / maintenance costs
Dust and odor-free support by appropriate design
High immunity
Long service life through additional Verschleissschutzmaßnahmen
Extensive safety accident by complete "enclosure" of the working worm shaft and the outer rotating parts
Individual loading and unloading of the conveyed material at any point
Suitable for steep and vertical conveying
Additional technological functions possible during the conveying process (for example, cooling, heating, mixing, drying, washing, etc.)
Technical Summary
The fabricated in modular construction, maintenance and easy to use Brama auger consist essentially of:

drive and end bracket in solid warp resistant welding / screw / socket design. Due product be appropriate supports and seals the shaft Trittes used for product space. For liquids containing products with seals and powdery products through an adjustable preloaded gland.
More durable packs in conjunction with an additional Fettsperr- or seal ensure the required sealing effect.
Strong, on bearing brackets bolted external bearing flange or in pillow block housings, and a vibration-free motor mounting plate completing the compactness and stability of the module component. Worm shaft, consisting of the use of thick-walled tube shaft on both sides with a friction fit or additional Fügeschweißung mounted drive and end plug. The geometry of the screw vane set is variable in its execution, and is designed in each case to the individual requirements and executed. From the prior described overall construction of a very conservative bend line without resulting stress peaks, resulting in a long lifetime.
Entire screw housing with the required process, inspection and maintenance terminals, in simple and multiple tube, U-trough shape, with respective stiffeners according to structural requirements. The split for easy handling cover is screwed to the U-trough. The power transmission takes place either via a geared motor in the respective type of construction by means of elastic coupling, untersetztem chain drive or directly via Auftseckgetriebe.
A host of other requirements such as:
Material selection
Compressive strength
Gas leaks with spec. leakage rate
abrasion
torque limiter
frequency control
rotation monitoring
be considered according to customer specifications.