Food waste separation plant
Food waste separation plant / waste separation system
Food waste unpacking conditioning / separation and separation plant for food and industrial wastes.
Brama GmbH NTA NTA 8 & 10 - separation plant for wet-mechanical separation processes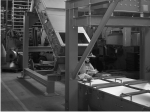 _
_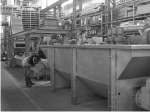 _

The innovative wet separation system for processing and separation of mixed, packaged and unpackaged waste.

This system is a solution for the control of TD Municipal Waste of the Waste Disposal Ordinance, which prohibits the deposition / landfilling of untreated, organic, biodegradable municipal waste since June 1 of 2005. By preparing and separating the organic and / or municipal waste, we lowered the Unmweltbelastung and provided a larger volume of high-quality biomass for recovery. Waste have been dumped basically untreated, are prepared such waste and recycled. The organic portions are recycled as compost or biomass for the generation of regenerative energy, which leads to a significant reduction in the landfill and related methane emission. By implementing this wet mechanical separation process waste fractions are achieved with maximum purity. Impurities in biomass and compost thus no longer pollute the environment. Highest quality, safety and precision are in the manufacture of high-performance systems in the first place, to achieve the best results for the user and cost to secure the waste processing for many years.
Application examples:
Municipal waste
organic products
Food waste
Biograde waste
leftovers
recyclable materials
Waste of any kind
many more applications
from agriculture to contaminated medical & industrial waste.
| | | | |
| --- | --- | --- | --- |
| | | | |
| Municipal waste | organic products | recyclable materials | Waste of any kind |

Processing principle of NTA NTA 8 & 10
Products must be reduced in fully automatic operation, teilverflüssigt, recycled, separately to this for further processing to provide of impurities. Via computer and the frequency converter is controlled, the system performance-driven and controlled. Thus can be recognized performance, state of the plant, as well as performance degradation or errors. Reversing or washing programs are automatically started, through to self-shutdown in the absence of refilling.

This plant is characterized by a small footprint and can be integrated into existing buildings and equipment. The planning and installation of the plant, we can also create customized. Thus, the feed can be manual, automatic or from the wheel loader / truck from place directly.

The machines in contact with the product range are made of stainless steel. The steel structures are manufactured in stable, lacquered industrial grade, also available in stainless steel.
A power of 5 hours up to 8 tons is in this case operated reliably in continuous operation. Contaminants such as plastics, rubber, films, and coarse pieces are removed washed and moist hand. Glass, metals, stones, sand and other Schwerstörstoffe be discharged and deposited from the substrate in the flotation principle.

This dissection of abrasive contaminants increases the service life of the pumps and engines to prevent silting of pipes, tanks, fermentors for biogas plants or slagging in thermal systems.

A large part of the circulating process water is recycled through the use of special filters water in the material cycle and thus reduces the operating costs.
Metals can optionally be separated and collected separately for recycling.

For other applications and to create partial or complete plants for the processing of waste and other processes, please contact us.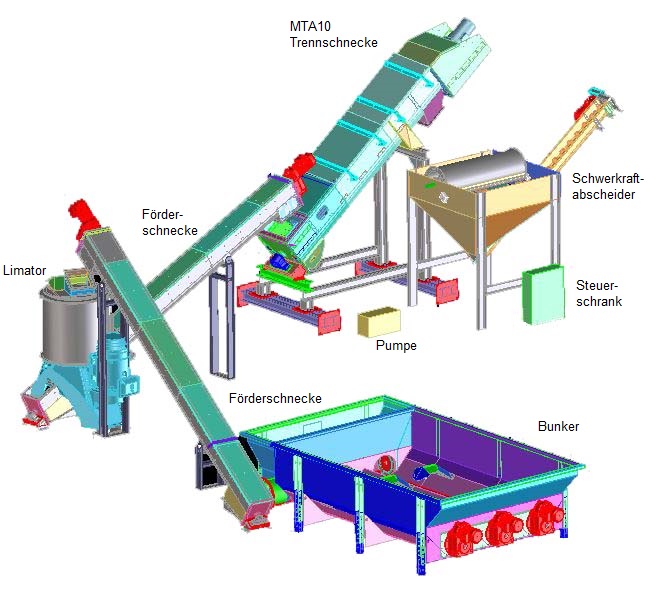 ,
,