_Annahmebunker AB3S_ - | - _Mülltrennanlage NTA 8_ - | - _Produkttrockner TKBDs_
_Produktkühler TKBD_ - | - _Förderschnecken_ - | - _Trommelsieb TS_ - | - _Windreiniger KO_
---
Silo-dryer system product dryer TKBD's
Our TKBDs silo dryer system is a widely applicable system for industrial and agricultural area. They are suitable for free-flowing and slow-flowing products.
_
_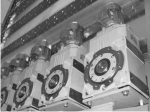 -
Applications:
T rocknen
K ühlen
B elüften
D osing
s chwer flowing products
By using the durchlüftbaren, parallel abrasive discharge system in combination with the air-product countercurrent process an energy efficient processing of the products is accomplished in a continuous or circulation.

The rollers of the discharge system are individually, collectively and also reversibly drivable. The specially designed discharge ensures a parallel emptying. Here is the lowest (oldest) product layer removed with minimal mixing with other product layers. The dry / cooling process can always be influenced by longer or shorter residence times. Overdrying and long residence times are reduced to a minimum. The use of humidity and temperature sensors and provides a controlled and continuous fully automated operation. The removal of water and performance is dependent on the products, the pre-selected parameters according to the filling level, the moisture release and the dwell time of the product.
Typical drying products and applications:
| | | | |
| --- | --- | --- | --- |
| | | | |
| Miscanthus / Miscanthus | Corn chopped & hot from dryer | Short rotation coppice damp | robinia |
| | | | |
| pasture | poplar | wood chips | hemp |
| | | | |
| Precursor pellet production | cereal chaff | plastic sheets | Straw / hay |
| | | | |
| granules | pellets | rape | crops |
and many more pourable and free-flowing and hard flowing products, ...
Application:
Function as pass dryer / cooler
is fed continuous filling and removal of the product during hot or cold air.
Function as current / set-dryer / cooler
The product is hot during continuous circulation / cool air supplied to achieve the desired product quality. The product is completely discharged after the process and refilled.
Function as Produktanwärmer or coolers in the countercurrent flow process
Ventilation takes place on the countercurrent principle using optimized fans, from bottom to top. The temperature of the exhaust air is monitored for moisture content. The residual heat can thus be used for heat recovery. It is controlled by an integrated measurement and control system.
Filling and emptying:
Filling and emptying of the silo TKBDs dryer system is fully automated by upstream and downstream periphery. A continuous or batch process and is freely selectable.
Construction:
The TKBDs silo dryers are an expandable modular construction variant system. The Silomodule however, are individually delivery and assemble. Per module, the capacity is increased by 4.70 m³.
Dimensions dryer (construction) WxDxH
3000 x 3000 x 5000 max. 19,500 mm

An individual configuration at any time be created.
advantages
Application for various products (free-flowing, fuzzy and difficult fluent)
Defined and also (dis) continuously discharging the products
Reduced energy needs through heat recovery
Minimum space requirement
Low air consumption
minimized residence
Fully automatic process
Modular design - simple and easy to service
Use even with small temperature differences
low emissions
Improve product quality / homogeneity
Improving the heating value by drying
Advantages reference to the Hackguttrocknung as an example
, the most important quality characteristics of wood chips are:
Low water content
Homogeneous, uniform possible piece sizes
Lower level of fines
Clean chamber load - little amount of green and pollution (sand content, etc.)
The following table provides an overview of the energy content of different Hackgutsortimente depending on the water content and various sales measures.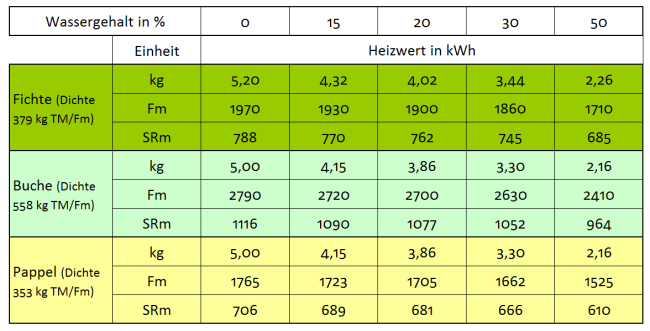 Fm = cubic meters, Rm = cubic meters, TM = dry matter
(source: Bavarian State Institute of Forestry, leaflet 12, Freising 2011)
Reasons for the drying of wood chips:
Forest Fresh wood chips have a water content of about 40-60%
Doubling the usable calorific value by the moisture reduction to 15-20%
Achieving an optimum boiler efficiency and optimum use of energy
Improving the quality of flue gas when burning
Improving storage ability (reducing the formation of mold)
Saving of labor because of halving the material requirements due to the doubling of the heating value and by doubling the Hackgutmenge result of BTV (tree total recovery)
Halving the Hackgutgewichts = reduce transportation costs
1 Rm Hack goods from mixing wood replaced more than 100 liters of fuel oil
Technical data of the TKBDs silo dryer system
The flow rate depends on the desired drying and moisture level.

The amount of water and water delivery capability of the product depends on the moisture content of the reference material. The removal of water eg wood chips from fresh wood can be up to 100 l / srm or 300 l / t.
There is any heat source, such as waste heat from biogas plants, flue gas usage or produced hot air by gas or oil burner or other heat systems.

After reaching the degree of drying is ablated layer by layer from the bottom and returned to fresh product as required above. A saving of energy can be additionally made possible by the recycling of the heat in the heating circuit and an outer insulation of the dryer.

The fill volume at an installation height of 7.0 m is approximately 34 m³. The connection values are approximately 20 kW electrical addition of conveyors and up to 200 kW thermal. The thermal application can be from 0 to 600 kW.

Compared to other dryers, savings in energy consumption of up to 20% or more can result.

Download files: