_Annahmebunker AB3S_ - | - _Mülltrennanlage NTA 8_ - | - _Produkttrockner TKBDs_
_Produktkühler TKBD_ - | - _Förderschnecken_ - | - _Trommelsieb TS_ - | - _Windreiniger KO_
---
Brama GmbH Drum screens Type TS
Here is a overview about our screening drums / drum screens of type TS-800 , TS-1270-L , TS-1270-V and Accessories / extensions.
The drum screens type TS are stationary screening plants for various materials.
(eg sand, gravel, soil, pellets, wood chips, construction waste, rubble, plastics, biomass, free-flowing products with grain sizes of 2.0 mm to 80 mm)
We will advise you which Trommelsiebanlage that is appropriate for your needs and circumstances. For technical questions about our drum screening please contact us.
 
_
_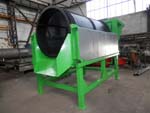 Here we would like to introduce our drum screening TS-800 TS-1270th
Trommelsieb TS 800
Summary of drum diameter 800 mm, stationary model for lighter materials,
3.1 m² per fraction (2 min fractions = 6.2 m²).
Trommelsieb TS 1270 L
Summary drum diameter 1270 mm, stationary model for lighter materials,
4,0 m² per fraction (min. 2 fractions = 8.0 m²)
Trommelsieb TS 1270 V
Summary drum diameter 1270 mm, stationary embodiment for medium-weight materials,
4,0 m² per fraction (2 min fractions = 8.0 m²).
Extensions & Accessories for drum screens
- Adoption funnel for drum screens
- outgoing conveyor for drum screens