_Annahmebunker AB3S_ - | - _Mülltrennanlage NTA 8_ - | - _Produkttrockner TKBDs_
_Produktkühler TKBD_ - | - _Förderschnecken_ - | - _Trommelsieb TS_ - | - _Windreiniger KO_
---
Brama GmbH Wind cleaner KO20 / KO40 / KO60 / KO80
The Brama GmbH Wind cleaner can be used both for pre- or post-purification of various free-flowing and pourable products in industry, recycling and agriculture.

According to the principle of the product air countercurrent process, the components that are lighter than the product are and / or other product surface and / or a different product have density, sucked with the air flow.

Function on hand image of the wind cleaner Type A
Advantages:
· Separation of various products and a wide variety of contaminants
· Good impact and degree of purification
· Compatible with various free-flowing and flowable dry products (granules, sand wheat, corn, etc.) without modification
· Easy to retrofit into the product stream existing plants
· Flexible setting of Besaugungsfläche
· Absaugungsgrad and adjustable Besaugungsfläche
· Variable power
· Reduced height
· With integrable folding boxes up to 3 outputs possible
Suitable for:
Different products that are interspersed with foreign particles:
granules
plastics
Sande
metal pieces
plastics
Grain
Corn
and other products that differ in size, mass and density
Product examples: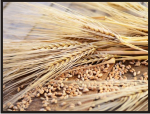 _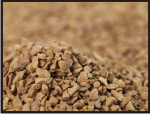 _
_
Function in the air separator principle:
The upstream and downstream of the adjusting tabs Brama-GmbH Wind cleaners is energy efficient and controlled low consumption of the intake air, as the air can be drawn only by the product to be purified flow. 
By fixing the adjusting tabs intersucking an additional upstream and / or downstream conveyor elements can be (pre- dust or downstream conveyor). Likewise, the Besaugungsfläche can werden.Das changed product is continuously filled. By the inclination of the cleaner the product to be purified on the Besaugungsfläche by the wind cleaner flows. The Besaugungsfläche consisting of superposed laminations, is flowed through by suction air and the product is turned by this step-shaped arrangement and their own downward thrust. By this reached crossflow principle, the suction air increases with the lighter components such as dust, trash, lint and other light impurities. In a dust separator, the foreign substances from the air can be separated.
Installation:
The installation must in principle be carried out in an inclined position of 42 ° to 50 °. The cleaner can Kobran wind into any existing pipe system can be mounted before or after a bucket conveyor, screw conveyors or drag chain conveyors, etc..
Technical specifications:
Dimensions

KO 20

KO 40

KO 60

KO 80

Height without transitions * approx .:

580

580

580

580

Width*:

280

480

680

880

Length without transitions *:

1015

1015

1015

1015

Transitions
to Ø *:

200x200
150

200x400
200

200x600
250

200x800
250

Suction *:

650x200

650x400

650x600

650x800

Power (t / h):

20

40

60

80

Weight (kg):

-

110

-

-

Power blower (kW):

1.50

2.20

4.00

5.50
* All dimensions in (mm) / Other and larger sizes available!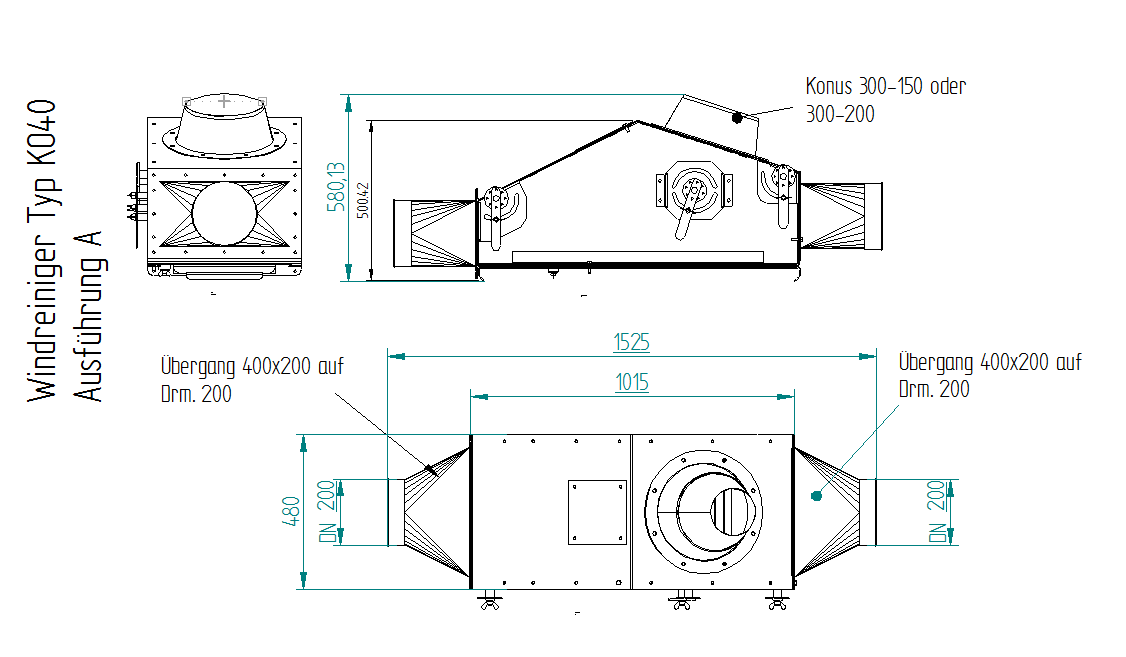 Air distribution:
Ambient air is drawn through the fins inside the Brama-GmbH Wind cleaner through the product into the fan and then similar to a dust collector such as cyclone, filter cleaned or fed directly into the open. In highly abrasive products of the dust collector should be used in front of the exhaust. Likewise, the exhaust air in the air recirculation system can be used by appropriate air flow.
The amount of air varies according to the product to be purified. For example:
Light product (such as oats) - Low air volume
heavy product (such as corn) - High air flow
version B

Kobran wind cleaner with an additional flap before Besaugungsfläche. Here, the product can be used both before cleaning to be redirected. (Product flow bypass without cleaning)
 

version C

Kobran wind cleaner with an additional flap according to Besaugungsfläche. Here, the product can be used both after cleaning to be redirected. (Distribution after purification)

Type D

Kobran wind cleaner with two additional flaps. Here, the product can be used both before and after cleaning to be redirected.
 
All transitions can both square tubes as well as circular pipe cross sections, are manufactured according to customer requirements.
_