Receiving bunker with three dosing 3,550 x 6,000 x 1,560 mm H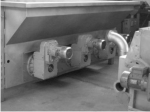 _
_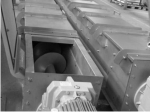 _
Universal acceptance tank
The filling of the acceptance of the bunker from the top in an easily accessible side of the bunker by means of adoption of shovels. Access roads and restricted zones are to be marked so that accidents and damage to the bunker and its annexes be avoided by pulling away.

The three spaced parallel, identical and directly driven screw trees transport the goods by a partition wall to a transversely disposed screw tree. The partition prevents back flow of the conveyed material in the sales area.

The transfer of the product to the connected trough screw conveyor (TS 420 x 7,000) is performed by the frequency-controlled cross auger, which is executed at the transfer position as stuffing screw.
each foot is designed adjustable in height for hosting the assumption bunker.